Let's Talk Bitcoin! #313 – Does It Matter How We Scale?
The following video was published by theb on October 30th, 2016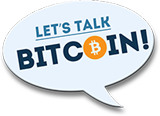 Stephanie and Adam continue the conversation about Scaling Bitcoin/Lightning Network/Sidechains. The question is, does it matter how we scale?
Note: New Let's Talk Bitcoin! episodes will be released on Sundays instead of Saturdays!
Content for episode 313 show was provided by Stephanie and Adam. Music for this show was courtesy of Jared Rubens, and this episode was edited by Adam B. Levine.